About Us
Our Mission
To uphold our 100% satisfaction guarantee by helping people with hardware issues on mobile devices through a commitment to high-quality repairs that will help prevent future hardware problems.
Our Story | Bedroom to Franchising
iCare Repair came to be, albeit unexpectedly, from a friendly rivalry. In August 2012, the future owner of iCare Repair, Dan Peabody, had learned that his friend, Dustin, had brought his sister's phone into a repair shop to get fixed. Dustin had explained to Dan that the iPhone was simply too difficult to repair on their own, and that he had tried to and failed. However, when Dan found out that his friend was unable to repair the iPhone, Dan told him that he should have given the device to him to fix in the first place. Dustin mentioned to Dan that the device was "way too difficult" to repair, even for an engineer like himself, and predicted that Dan would experience the same repair problems that Dustin came across. Dan, being an airplane mechanic, thought that he would be able to overcome any repair obstacle that would present itself, so he decided to prove his friend wrong by purchasing a similar broken iPhone as Dustin's sister and making a friendly challenge.
Dan only needed a few hours to win the challenge against Dustin and only a few minutes to realize the prospects of opening his own device repair shop.
Dan quickly turned his bedroom into a small repairing and mailing station, where a plethora of boxes with broken devices started to stack up against the walls. Eventually he had so many devices in his room that he made the executive decision to open up his first storefront in Okemos, MI in October of 2012.
After a successful first year, the next best step was to open up more locations. By the year 2016, iCare Repair had branched out all over Michigan with 11 locations and two locations on the west coast of the United States. Franchising has allowed the company to prosper under strong direction and a recognizable brand in order to continue to grow and develop into a trusted electronic repair business.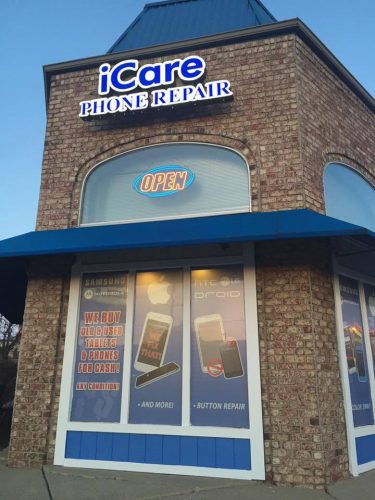 What We Do…
We strive to be the best electronic repair store by providing excellent customer service experiences, high quality repairs, and by giving our customers the best electronic device products on the market. We have managed to accomplish this by providing an extensive training program to our technicians and sourcing our parts and accessories from the best suppliers in the industry. From this, we have become more than just your local electronic repair store.